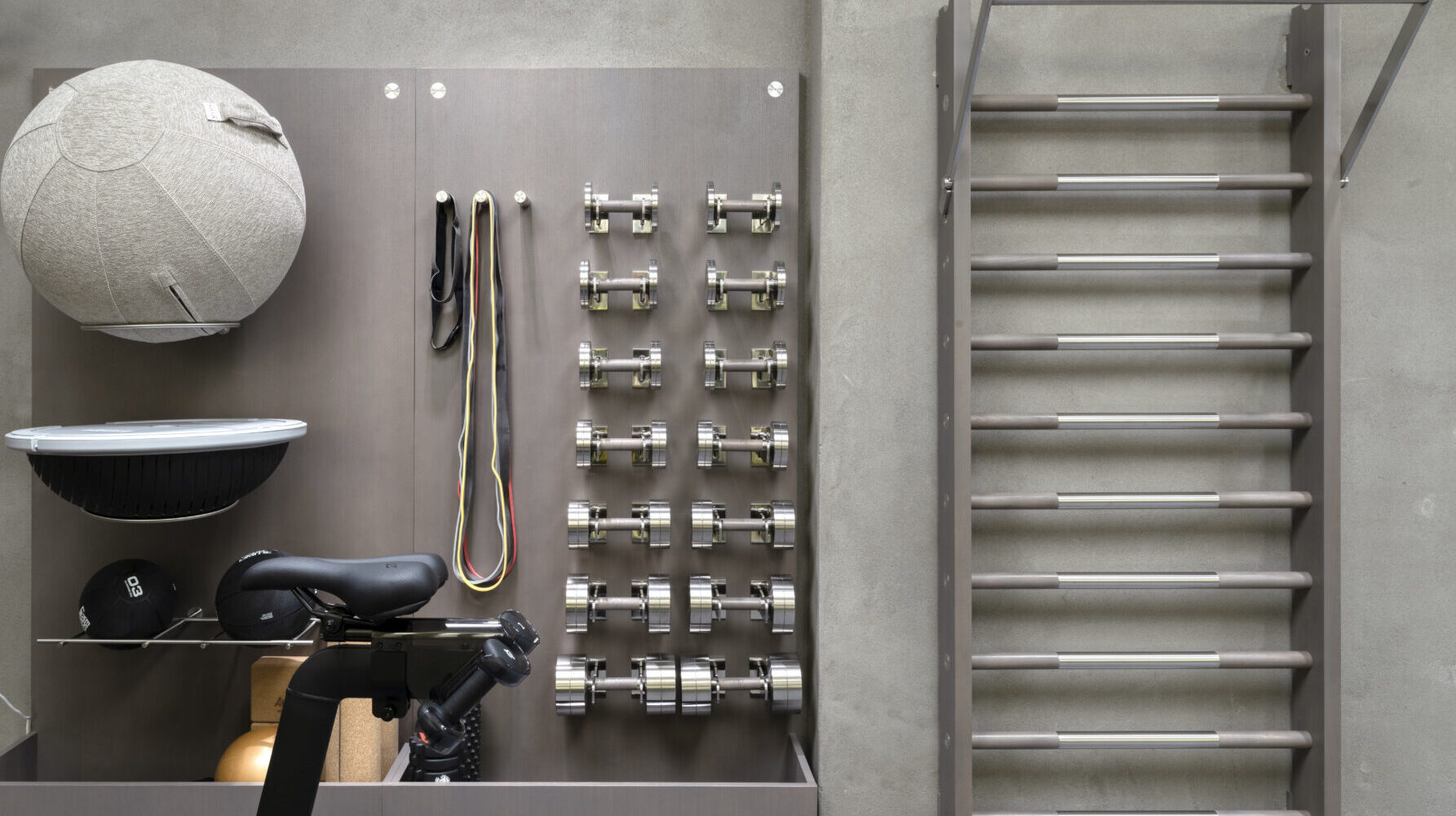 North London Home Gym
Set in a large basement area next door to a games room, this modern gym is part of a large home designed by a top 100 UK interior designer.
Paragon Studio were tasked with creating bespoke storage for our award-winning Diabolo Dumbbells to sit alongside various gym accessories from NoHrd, VluV, Escape Fitness, Airex & Technogym.
The wooden elements of the Luxury Dumbbells and storage rack were finished with a bespoke grey wood stain – which was created to match other joinery elements in the property created by the client's interior designer. This bespoke piece of home gym design work led to the development of our popular Wall Storage Unit – a product which is now available in our range as a package.
Next to the Wall Storage Unit you can find our luxury gym wall bar, matched to the other equipment in grey stained oak. The metal hardware used on the Folding Wall Bar is brushed stainless steel, which again matches the Diabolo Dumbbells and the hooks in which they are stored. The Wall Bar System features a folding top bar with a fat stainless steel grip. This can be used for pull-ups, or for suspending a TRX or Resistance bands for other types of bodyweight training.
Situated next to a light-well, this gym benefits from lots of natural daylight thanks to large glass sliding partitions. The provision of light is further enhanced by a run of mirrored cabinets across opposite wall, which reflect the light and make the room seem bright and airy.
In the outdoor area the floor has been finished with astro-turf, allowing for outdoor training in perfect privacy when the weather is fine. The Stone Grey rubber gym floor in this Luxury Home Gym is by Pavigym. This compliments the amazing textured wall finish chosen by the interior designer. We absolutely love the playful feature lighting – nothing quite beats training under the clouds!